Chanticleer Staff
Year-round Horticulture & Grounds Staff
Lisa Roper, David Mattern, Eric Hsu, Jeff Lynch (Grounds Manager), Chris Fehlhaber, Joe Henderson, Przemyslaw Walczak, Doug Croft, Scott Steinfeldt, William Stuart, Terry Struve, Nate Pinelli, Dan Benarcik
Seasonal Horticulture & Grounds Staff
Upper - Tom Lieb, Devan Schenck (Intern), Yvonne England, Lana Guardo (Intern), Kyle Lukens,Adam Dooling (Intern), Quinn Conroy (High School Intern), Dave Emmons, Tom Maczko, Tessa Kuracina,
Elaina Hanzel (Intern), Lowery Douglas

Lower - Tim Snyder, Teddy Pickering (Intern), Stephen Zelno (Intern), Carla Hetzel
Visitors Services Team
Front - Anna Kruschwitz, Mary Peterson, Cybele Tsao, Anne Sims
Back - Cindy Pierce, Rebecca Drury, Erin McKeon (Public Programs Manager), Cynthia Murray, Helen Lightcap, Dennis Matthews, BJ Johnson, Joy Clauss, Kathy Bright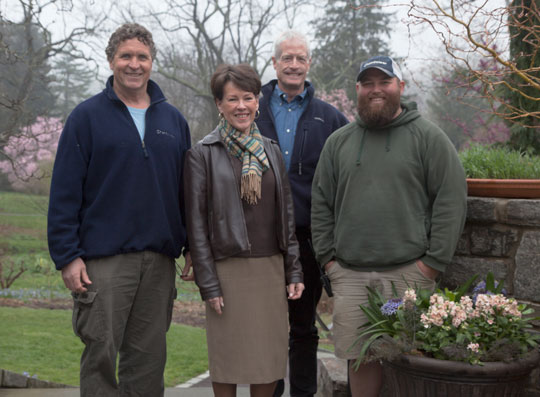 Administration & Facilities Management
Ed Hincken, Facilities Manager; Bill Thomas, Executive Director & Head Gardener; Fran DiMarco, Administrative Assistant; Bryan Christ, Assistant Facilities Manager
Opening Times
Wednesday - Sunday

10am - 5pm


Friday Evenings

Open until 8pm.

Our last Friday evening of the
2017 season will be September 1st.

Due to limited parking, we cannot accommodate groups on Friday evenings.


Full Parking Lot

Our parking lot holds 120 cars and can fill on weekends and Friday evenings. Please car pool and understand once we reach capacity, we will ask you to return another time.


Early Openings in 2017

The garden will open at 8:00am on
September 2nd, and October 7th.