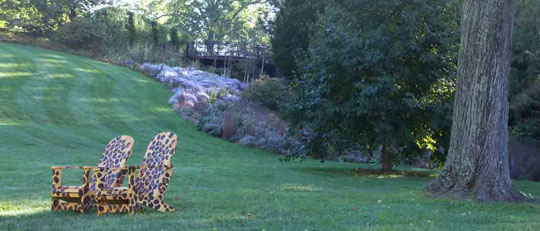 Photography at Chanticleer
Photography Guidelines and Tripod Use
We encourage our guests to take casual photographs and videos of their visit for their own personal use. However, personal photographs and videos may not be used for commercial purposes.
We ask garden photographers to sign a Photography Guidelines and Tripod Use form indicating that any photographs or video/film footage taken at Chanticleer will not be used for promoting commercial products or services. This form can be accessed below or given to you upon arrival at the Entrance Desk.
Photography Guidelines and Tripod Use Permission Form
Please note:
- All photography is at the discretion of Chanticleer.
- Photography sessions must not interfere with the enjoyment of Chanticleer's other guests
- Wedding/Family/Engagement/Portrait photography is not permitted in the garden
- The use of props or signs is not permitted
- Portfolio photography for aspiring photographers and models is not permitted
- Changing clothing and photography in bathing suits or lingerie is not permitted
- Commercial filming and photography require advanced written permission from the Executive Director
- Chanticleer will not sign releases giving blanket permission for stock agencies to use photos taken at Chanticleer
- During your visit you may be filmed, videotaped and/or photographed by a Garden employee or contract photographer. Your attendance serves as permission for the use of your image by the Garden and its constituents.
Opening Times
Wednesday - Sunday

10am - 5pm


End of Season

The garden will remain open until Sunday, November 4th, 2018.
Opening day for the 2019 season will be March 27th.


Early Openings in 2018

The garden will open at 8:00am on November 3rd for our last early opening of the 2018 season.


Full Parking Lot

Our parking lot holds 120 cars and can fill on weekends and busy days. Please car pool and understand once we reach capacity, you will need to wait until the parking staff directs you to an open spot or plan to visit at a non-peak time.