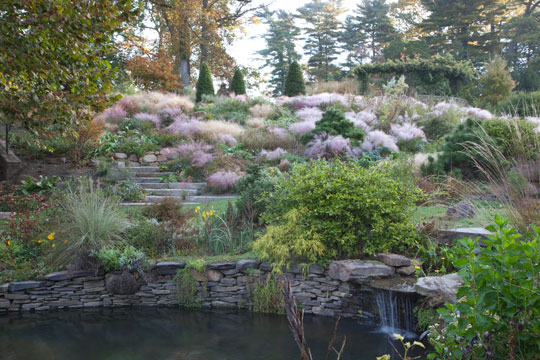 Donations
Donations have been generously received in honor of the individuals listed below. Money donated was used for plantings to enhance Chanticleer for the decades ahead.
Chrystal E. Bahnsen
Dr. Joseph Foote
Harlon Morse
Patrick F.E. Temple-West
R. William Thomas
Mary I. Watson
Sawyer Weir
Mrs. William R. Wills
Marilyn Woolkalis
Opening Times
Wednesday - Sunday

10am - 5pm


Early Openings in 2018

The garden will open at 8:00am on May 5th, June 2nd, July 7th,
August 4th, September 1st,
October 6th, and November 3rd during the 2018 season.


Full Parking Lot

Our parking lot holds 120 cars and can fill on weekends and Friday evenings. Please car pool and understand once we reach capacity, you will need to wait until the parking staff directs you to an open spot or plan to visit at a non-peak time.


News & Events
Chanticleer Lecture
April 29th, 3pm
Radnorshire Room
Radnor Township Building
301 Iven Ave, Radnor, PA 19087
Claudia West presents:
Wild and Neat: Bridging the Gap between Great Garden Design and Ecology
Free of charge, seating is limited.
Mother's Day News
Due to anticipated large crowds, there will be no picnicking on Mother's Day, Sunday, May 13th.
2018 Season Passes Now Available
Now available for purchase –
2018 Season Passes
!
The Art of Gardening
Chanticleer's book,
The Art of Gardening
, is available at book sellers everywhere, including
Amazon
.
Chanticleer In the News
High praise from
The New York Times
,
Chicago Tribune
,
Garden Design
,
St. Catharines Standard
, and
FlipKey by Trip Advisor
.