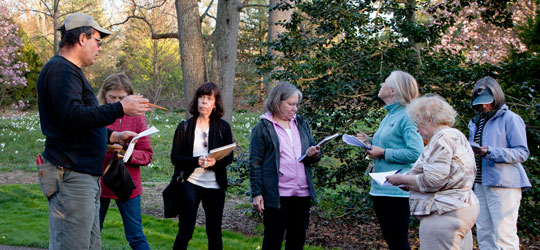 Classes at Chanticleer
Classes will be held outdoors. Please dress for the weather. If the weather is too poor to meet outdoors, we will move into a well-ventilated indoor space. When indoors, unvaccinated participants should physically distance and wear masks.
Onsite Classes
Chanticleer and Radnor Conservancy
Chanticleer and Radnor Conservancy are partnering on the following classes.
Register here
for the following classes.
Lawn Alternatives
Thursday July 29, 5:30-7:30pm
Interested in converting your lawn to functional plantings that provide ecological value? Join Chanticleer Assistant Horticulturist Katharine Startup to learn about the various options available to replace your turf. Katharine will share her insight on what plants work well in transforming lawn to ground cover plantings. Chanticleer displays many examples, transforming blank green canvas into thriving spaces brimming with life and color. From
Carex
(sedge) plantings to a flowery lawn to bulb meadows, this class will provide you with ideas and tools to reinvent your space. Innovative design techniques, customized plant selection, and simple maintenance tips make this class a must for anyone looking for more out of their lawn.
Beneficial Insects in the Garden
Thursday August 12, 5:30-7:30pm
Did you know that fewer than 1% of insect species are considered pests? That leaves a lot of room for insects that we can learn to love, such as the beneficial bugs in your garden. These insects can control pests, reduce (or eliminate) the need for pesticides, and make your garden healthier and more sustainable. Join Samantha Nestory, Horticulturist and Naturalist at Stoneleigh:
a natural garden
to learn about the benefits of key insect groups, how to identify them, and how you can attract them to your yard. Feel free to come with questions about your own mystery insects. Let's learn just how cool bugs can be!
Rain Gardens, Bioswales, and Green Infrastructure
Thursday August 26, 5-7pm
Make the rain a resource in your yard this year. Chanticleer Assistant Horticulturist Chris Fehlhaber will lead a walk that looks at green infrastructure techniques and practices such as rain gardens, bio swales and the permaculture technique of hügelkultur and discusses how they can be practically and pleasingly incorporated into your home garden. Don't waste this opportunity to learn how to make every drop count.
Woodland Gardening
Thursday September 2, 5-7pm
Woodland gardens can create a relaxed, natural look in the landscape. Join Chanticleer Horticulturist Przemek Walczak to learn how to get started with woodland gardening. Using Chanticleer as a classroom, Przemek will discuss plant choices, both native and not, their soil requirements and light needs. Design, planting, and maintenance will also be discussed.
Main Line Art Center
Visit the Main Line Art Center's website for classes at Chanticleer and other area gardens.
Main Line School Night
Visit the Main Line School Night's website to register for the Chanticleer Garden & House Tour.
Philadelphia Society of Botanical Illustrators
Botanical Illustration classes are taught using Chanticleer as the classroom. Consult the website of Margaret Saylor for upcoming classes at Chanticleer, and the Philadelphia Society of Botanical Illustrators website for more information about classes in the region.
Wayne Art Center
Visit the Wayne Art Center's website for classes and tours of Chanticleer and other area gardens
Opening Times
Wednesday - Sunday
10am - 5pm
Friday Evenings
Open until 8pm through Labor Day.
Parking reservations
are required.
Early Saturdays in 2021
Chanticleer will open at 8:00am on
August 7, September 4, and October 2.
Regular admission fees apply and
parking reservations
are required.
Garden Highlights Tour
Will be held every Wednesday and Saturday at 2pm.
Learn more and
register here
.
Once Upon a Garden Storytime
Join us for Storytime in the garden at 9:30am on
July 24
and
August 14
.
Regular admission fees apply and registration is required.