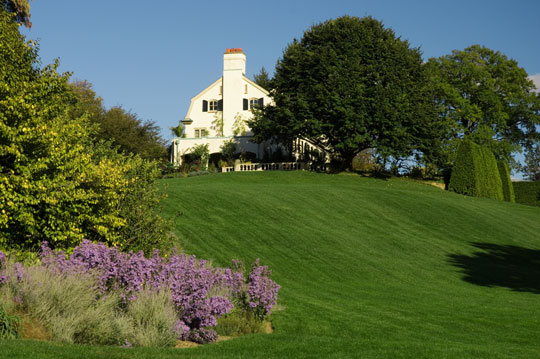 Chanticleer, A Pleasure Garden
Chanticleer has been called the most romantic, imaginative, and exciting public garden in America. The garden is a study of textures and forms, where foliage trumps flowers, the gardeners lead the design, and even the drinking fountains are sculptural. It is a garden of pleasure and learning, relaxing yet filled with ideas to take home.
The garden has evolved greatly since the death of the owner in 1990. As the home of the Rosengartens, Chanticleer was beautiful and green with impressive trees and lawns. Most of the floral and garden development you see today has occurred since 1990, designed by Chanticleer staff and consultants.
There are seven Horticulturists, each responsible for the design, planting, and maintenance of an area. The areas are continually evolving, each with its own feel, yet joined together as one complete unit. The Teacup Garden and Chanticleer Terraces feature seasonal plants and bold-textured tropical and subtropical plants. These areas change greatly from year to year. Non-hardy plants overwinter in greenhouses and basements.
The Tennis Court, Ruin, Gravel Garden, and Pond Garden focus on hardy perennials, both woody and herbaceous. The Tennis Court builds on the idea of foliar display introduced in the Teacup. The Ruin is a folly, built on the foundation of Adolph Rosengarten, Jr.'s home. It is meant to look as if the house fell into disrepair. The Gravel Garden is hot and dry, a touch of the Mediterranean in Pennsylvania. The Pond area is exuberantly floriferous.
Asian Woods and Bell's Woodland are shady areas. The former features natives of China, Korea, and Japan; the latter, plants of eastern North America. The Serpentine celebrates the beauty of agricultural crops. The cutting and vegetable gardens produce flowers for our arrangements and food for our tables. Surplus goes to a shelter. The parking lot is our "low maintenance" area, with hardy plants that are neither irrigated nor fertilized. Staff build furniture, fences, gates, bridges, and drinking fountains during the winter in converted garages.
We take our educational responsibilities seriously but interpret them a bit differently than other public gardens. Instead of labeling every plant, which would distract from the visual effect, we encourage guests to speak with the gardeners about our 5,000+ plants. Plant lists and photographs are in handmade boxes and available online. Study our designs and borrow ideas if you'd like. Take courses we offer in collaboration with other horticultural and art organizations. Internships, scholarships, and staff exchanges help the careers of garden professionals.
We strive to improve our environmental impact. We reuse, recycle, and compost. Solar panels produce 20% of our electricity. Cisterns capture approximately 50,000 gallons of rain water for irrigation and recharge. Integrated pest management keeps pesticide usage low. Healthy soil makes for healthy plants; we have fertilized our lawns organically for over a decade. Meadows and sedges replace some lawn areas and we are eliminating invasive exotics. Since 1990, we've planted hundreds of trees here and along local streets. Furniture is now made from wood cut on the property or with reused wood. We recently exposed a creek long entombed in a pipe. The path in Bell's Woodland is made of shredded tires.
The Chanticleer Foundation owns 50 acres, 35 of which are open to the public. The remaining acreage is in agriculture, woodland, service areas, and staff housing. The main path is just under a mile in length.
We hope you feel like a special guest of the Rosengartens. Sit and enjoy the views. Relax, read, converse, meditate. Feel the sun on your back and the grass beneath your feet as you listen to the birds and enjoy the scents of the garden.
Opening Times
Opening Day - March 29, 2023
Chanticleer will be open, March 29 through November 5, 2023, Wednesday through Sunday.
Parking reservations
are now available for 2023.
2023 Season Pass
Chanticleer's 2023 Season Pass is available for purchase.
Purchase a 2023 Season Pass
, good through November 5, 2023.
House and Garden Tours
Held every Friday and Saturday at 11am.
Learn more and
register here
.
Garden Highlights Tour
Held every Wednesday and Saturday at 2pm.
Learn more and
register here
.
News & Events
Chanticleer Gardeners Share Spring Workshop: Plant Propagation and Container Design
April 24 & 25, 9am-4pm
Register here.
Guided Tour: Philadelphia Main Line Estates
May 31, 9:30am-3:30pm
Register here.
Chanticleer Emails
Stay current -
Sign up
All Vaccinated!
We're pleased all Chanticleer staff and volunteers are vaccinated against COVID-19.
Chanticleer In the News
High praise from
6ABC
,
WNEP
, and
The New York Times
.