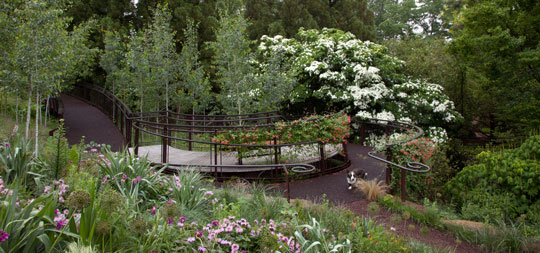 Accessibility
Chanticleer welcomes visitors of all abilities to experience the garden. We strive to ensure that the garden is accessible. However, due to the gardenís varied topography, portions of the historic landscape may be inaccessible.
Mobility
Chanticleer is wheelchair accessible. A one-mile paved path navigates the gardenís 35-acres with benches strategically situated throughout. Topography through parts of the garden is hilly, which can make pushing a wheelchair challenging. Our Visitor Service staff are available to help you determine the best way to proceed before you begin. Visitor Service staff can be found at the reception desk and roaming in the garden.
You are welcome and encouraged to bring your own personal mobility device for use in the garden. Wheelchairs are not available for rent at the garden and Chanticleer does not have shuttles within the garden.
Parking
Reserved accessible parking is available near the entrance. Guests may drop off passengers near the front desk, using the traffic circle as you enter the parking area.
Restrooms & Drinking Fountains
Accessible restrooms are located near the entrance and in the Asian Woods area, half way around the gardenís one-mile path. Most drinking fountains are wheelchair accessible. See a Visitor Service staff member for assistance to locate these.
Service Animals
Service animals aiding visitors with disabilities are welcome at Chanticleer. Pets are not permitted.
Personal Care Assistants
Personal Care Assistants (PCAs) are provided complimentary admission when accompanying guests with disabilities during their visit.
More Information
For accommodation requests related to a disability, questions, comments, or for more information about the accessibility of the garden, please contact us by emailing
admin@chanticleergarden.org
or calling 610-687-4163.
Opening Times
Wednesday - Sunday
10am - 5pm
Parking reservations
required Friday through Sunday. Reservations not required Wednesdays and Thursdays starting June 29th.
Friday Evenings
Open until 8pm through Labor Day,
parking reservations
are required until 6:45pm.
Due to limited parking, we cannot accommodate groups on Friday evenings.
Picnicking
is permitted only in the picnic areas. We ask guests to carry out what they bring in.
Purchase a 2022 Season Pass
Early Saturdays in 2022
We open at 8:00am on September 3, and October 1.
Regular admission fees apply and
parking reservations
are required.
House and Garden Tours
Held every Friday and Saturday at 11am.
Learn more and
register here
.
Garden Highlights Tour
Held every Wednesday and Saturday at 2pm.
Learn more and
register here
.
News & Events
Once Upon a Garden Storytime
Join us for Storytime in the garden at 9:30am on
August 27
, September 17, and October 15.
Regular admission fees apply and registration is required.
What Makes a Great Garden:
Be Inspired for Your Own Garden
Chanticleer and Penn State Great Valley host Annie Guilfoyle for a public lecture on October 17 at 6:30pm at The Conference Center at Penn State Great Valley.
Register here.
Chanticleer Emails
Stay current -
Sign up
All Vaccinated!
We're pleased all Chanticleer staff and volunteers are vaccinated against COVID-19.
Chanticleer In the News
High praise from
6ABC
,
WNEP
, and
The New York Times
.